Portraits of Clément Marot
Surprise ! This quite unknown portrait - in the Hermitage - might very well be the most plausible candidate if you want to get an idea of how Marot really looked like ca. 1540. The date, the clothing and style are correct (the baret was in fashion then, and the dress fits a cleric or magistrate, remember: Marot was 'valet de chambre') The drawing was bought by Catharine the Great in 1768 together with a lot of other French Renaissance paintings (collection Cobenzl = more info below]. The annotation at the top ('de Chambre du Roy ..... clement Marot poete valet') is partly in a contemporary hand, and partly 18th century.
The more familiar portraits are presented and commented below this - in my humble opionion - intriguing new portrait.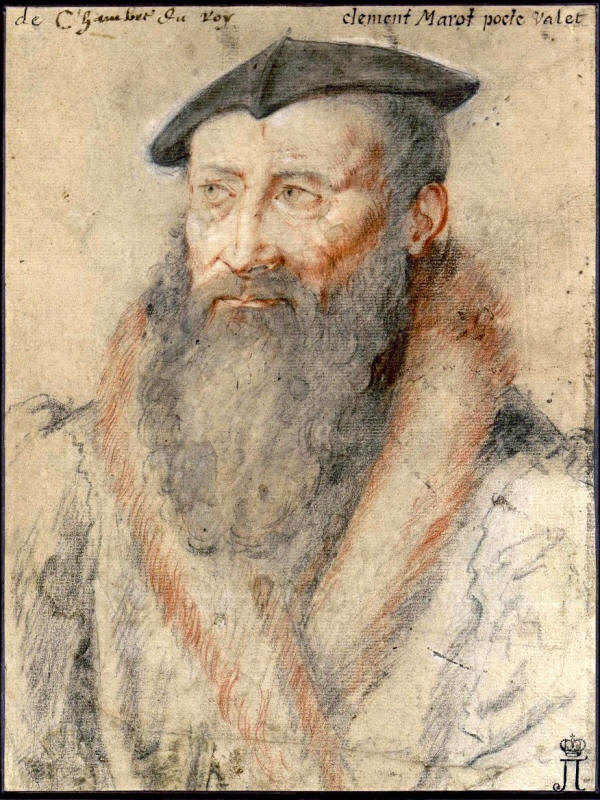 Anonymous Artist, second quarter of the 16th century. black and red chalk. 25,2х18,9 cm.
Hermitage - St Petersbrug. INV: ОР-2979. Link naar de gegevens
To be perfectly clear: there is no 100% authenticated portrait of Marot. The portrait of Corneille de Lyon (very small, 10 x 8,5cm) with which the gallery opens is the one that is generally considered approximately contemporary (1540s). The problem with that one is that the person on that portrait it too young to be Marot. The engravingsof/after René Boyvin (1525-1598) are iconical, but it is not clear on what Boyvin based his engraving. Accourding to Bentley-Cranch, the first instance of this engraving - which itself has no date - appears in a 1558 book, printed in Antwerp by Hieronymus de Cock [I find this odd, but am not able to check it]. The image on the title page of Jean de Tournes edition of Marot's Oeuvres made its first appearance in 1558 (courtesy of Guillaume Berthon). Analysis of most of the pictures: see Dana Bentley-Cranch, 'The iconography of Clément Marot', in Smith/McFarlane (eds.), Literature and the Arts in the Reign of Francis I, essays presented to C.A. Mayer (Kensington, 1985). Below I added my own findings. For a better experience I also uploaded the main portraits to a separate website.


click on an image to enlarge

portrait of a man (attrib. to Corneille de Lyon)
Louvre Museum.
In the past generally accepted to be Marot.
Recent research questions this attribution: clothing suggests second half 1540s.
Marot was in Lyon in the second half of the 1530s. Het frequented the same people as Corneille.

Clemens Marotius primus sui temporis poeta gallicus - La mort ny mord
(René Boyvin)
Earliest date of this engraving (Bentley Cranch): Antwerp, Hieronymus Cock, 1558, in a book commemorating the victories of Charles V. [odd, was not able to verify, in the 1556 edition it is not present]. Should be on folio 62-recto
Not signed.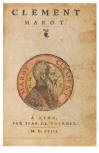 Frontispice on Jean de Tournes 'Oeuvres' since 1558
The image is very similar to Boyvin and/or Beze portrait.
Inside the medaillon are the letters LM NM: La Mort Ny Mord

Clemens Marotus Cadurcus (Boyvin 1572)
very similar to previous but with other attributes (laurel = the classical poet). From "Virorum Doctorum de Disciplinis benemerentium Effigies XLIIII" (1572b); engraver Philips Galle (Antwerp); below a quatrain by Benito Arias Montanus :"Gallorum Vate[m] qui... vertere et superas". Philips Galle used existing paintings/engravings. The fact that Marot's name is in a caption above is unique for this publication.

Clemens Marotius poeta gallicus (Boyvin, 1576)
same as previous, but with different text. Above: La mort n'y mord. (BNF Cabinet des Estampes).
signed RB


Clemens Marotius poeta gallicus (Boyvin, 1576)
Same as previous, but flipped.
signed RB

Clement Marot (lead)
Cast lead medal
Bust of Clement Marot right, laureate and wearing classical dress. After: René Boyvin, 17thC
N.N., Clement Marotus Francus Poeta Prim.
Postcard of the Portrait (oil on canvas) in Museum of the Reformation (Geneva - Tronchin bequest), supposedly once in the possession of Th. de Bèze. [De Bèze's adoptive granddaughter married a Théodore Tronchin]. Is this painting the basis of René Boyvin's engravings ?

Clément Marot (Vrais Pourtraits - 1580/1581)
Portrait next to the short biography dedicated to Marot in Beza's 'Icones' (or portraits). It seems to be based on the painting, supposedly owned by De Bèze (Tronchin bequest).

copy of a lost original by Holbein? (1754)
Quite popular, but not certified at all that this is Marot, nor that it is Holbein's.

Marot painted as if wax (grisaille)
Abel de Pujol Alexandre-Denis (Louvre, room B egyptian antiquities): Among the notable men of the Renaissance:

Portrait of a man, G.Moroni (?) - Museum of Protestantism Geneva.
Questionable. The painting is attributed to Moroni (b. 1520/5). Marot was in Italy twice: 1536 (Moroni was still teenager) or 1544 (Marot in his late forties). The man looks younger.

buste of Marot (1885)
bronze, Museum of Cahors Henri-Martin, by Jean Turcan (1846 Arles - 1895 Paris).

Marot at the fountain in Cahors
Monument erected in the 19th century and restored in 1996: 500th anniversary of Marot. The buste is a copy from the bronze in the museum
Clement Marot ('médaille', 1572)
In G. Rouillé (or Roville), Promptuaire des Médailles, p. 251. Immensely popular and influential.
Marot (Théodore de Bry - late 16th century)
Fantastic imagery (Jupiter-like), prob. based on the medaillon in Roville's book. "POETA CLEMENS MAROTVS CHAORSIVS/ Anté rudis, per te, calamos inflante Thaleia,/ Edidivit dulces Gallica lingua modos,/"

1996 (Marot and his King)
painting by an artist from Cahors, Christian Verdun, contributing to the 500th anniversary, based of course on Corneille de Lyon and Clouet.

Clem. Marot (unknown 'artist')
Museum of the Reformation in Geneva. Unknown provenance: the 'gloomy broodiness' (Bentley Cranch) is probably due to mediocre craftmanship.
about the Hermitage portrait:
This is what Alexandra Zvereva, art historian, and specialised in 16th century portraits (courtesy Guillaume Berthon) writes about this portrait:
"Ayant travaillé à l'Ermitage, je connais bien ce dessin, qui est magnifique et, comme vous le dites très justement, assez méconnu. En ce qui concerne l'iconographie de Marot, le seul véritable portrait est le profil qui le montre barbu et les cheveux très courts. [...] Le dessin de l'Ermitage montre bien un personnage âgé, barbu et vêtu comme un magistrat ou un prélat. La barrette plate est typique des années 1540. L'annotation visible en haut se compose de deux parties : à gauche "de [puis d'une main plus ancienne, écriture du XVIe siècle] chambre du Roy" et à droite "clement marot poete [d'une autre main] valet". Les écritures à droite semblent du XVIIIe siècle. Ceci voudrait dire que le dessin était plus grand, possédait une annotation ancienne sur au moins deux lignes d'une main du XVIe siècle et uniquement à gauche. A la rognure, survenue au XVIIe ou au XVIIIe siècle, la partie découpée de l'annotation a été reportée à droite, puis complétée. Il n'y a aucune raison de douter de l'exactitude de cette reprise. Autrement dit, tout concorde pour que ce portrait soit bien celui de Marot. D'ailleurs, la barbe et les yeux un peu gros sont ceux du profil. La seule différence est le nez qui paraît plutôt busqué, alors que dans la gravure il est droit. Quant à "Du Moustier" inscrit dans le cartouche, c'est le nom apposé par le fils de Cobenzl lorsqu'il cataloguait la collection de son père. Tous les dessins de cette provenance achetés par Catherine la Grande en 1768 possèdent ces montages violets et ces cartouches avec des attributions. Pour ce dessin, le nom choisi est le seul connu à l'époque : tous les portraits français de la Renaissance de la collection Cobenzl sont attribués à un "Du Moustier" sans prénom, qui semble être Daniel, portraitiste du XVIIe siècle, plutôt que ses oncles Etienne et Pierre ou son grand-père Geoffroy, totalement oubliés au XVIIIe siècle.  La manière de ce dessin ne ressemble à rien de connu. Elle est aussi très différente du portrait de Geoffroy qui n'était pas portraitiste. Pour Marot, la main n'est pas celle de François Clouet qui est le peintre du roi à l'époque. Il faut imaginer un autre artiste qu'il est impossible de nommer à ce stade."